REQUIREMENT:
Anti stain & corrosion resistant impregnation and sealer for protecting and beautifying new or old concrete floors. Eliminates dusting and seals surface to resist staining and corrosion from a range of oils, grease, fats, lubricants, sugars, lactic acids, soft drinks, mildly acidic or caustic solutions, etc.
HOW TO SPECIFY:
All floor surfaces (specify areas) when clean, dry, and at least 14 days old shall be impregnated to resist corrosion and staining using Cementaid ROKITE PR applied by brush, short-nap lambswool roller or low-pressure spray at the rate of 1 litre per 5 – 6 square metres, strictly in accordance with manufacturer's instructions for ensuring complete penetration.
NOTE: For floors subject to heavy traffic and / or acidic solutions, it is strongly recommended that DIAMITE Case Hardening & Dustproofing Liquid be applied prior to the above, for increased resistance against abrasion-wear and chemical attack.
Where a non-slip, high-traction surface is especially important, use Cementaid CALGRAINS trowelled into the surface of new concrete during placing and finishing. For existing floors where additional traction / anti-slip is required, specify ROKITE PR Non-Slip Grade.
EFFECTS:
ROKITE PR contains a unique blend of toughened plastic and rubber resins in a penetrating solvent.
ROKITE PR penetrates the concrete surface and seals pores to a depth of up to 3mm or more, leaving a tough, durable and fully trafficable wearing-surface. Dusting is completely eliminated. Grease, oil, food spillage's etc. simply wipe or hose off. Minimises cleaning time & costs. Staining or attack by a wide range of materials is resisted, and absorption of food materials that convert to acids by bacterial or enzyme action is greatly restricted. Effective life - 2 to 3 times greater than similar, untreated surfaces. Improves colour, depth and appearance. Fast drying & easy to maintain.
Also available in a range of colours, Colour ROKITE PR is the ideal hard-wearing and cost-effective treatment for colouring and beautifying concrete floors. See separate Data Sheet for Colour ROKITE PR.
Drying time (light foot-traffic only) - 1 to 2 hours. No vehicle traffic for minimum 24 - 48 hours.
WHERE RECOMMENDED:
Car parks, motor and electrical workshops, storage & warehouse floors, meatworks, dairy or food processing factories, ice-cream plants, sugar terminals, etc. All concrete floors subject to oils, grease, lubricants, minerals, oils, mild acids, caustics, sugars, fruit juice, soft drinks etc.;
NOTES:
Pre-treatment using Cementaid DIAMITE is recommended for acidic environments.
ROKITE PR (Clear) is fully compatible with Cementaid CALCURE CR. Use of other curing membranes may impair effectiveness, therefore use CALCURE CR.
Where pre-treatment with DIAMITE is required, use water or damp curing only.
ROKITE PR (Clear) may discolour slightly under prolonged exposure to intense direct sunlight. For these conditions use Cementaid LB9.
Maintain good housekeeping – Do not leave spilled materials or abrasive to stand on floor. Certain oil products may be able to penetrate or mark ROKITE PR (e.g. hydraulic fluid). If in doubt, conduct a small trial area first, or contact Cementaid to confirm suitability.
PRECAUTIONS:
Rokite PR liquid is flammable.
NO SMOKING. NO NAKED FLAMES.
Observe all usual precautions with solvents.
Use only under well ventilated conditions.
Refer to Material Safety Data Sheets for ROKITE PR.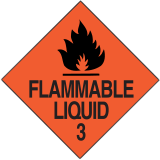 Do not use in areas where solvent odours may enter building ventilation air intakes or adjacent structures, or affect stored foodstuffs or other materials.