Membrane Free Waterproofing Concrete Structures
EVERDURE CALTITE FOR:
Prevention of Disintegration of Concrete through attaching by Sulphate/Chloride Soluble Salts, and also specialised applications.
British Board of Agrément (BBA) Technical Appraisal & Approval Certification
The EVERDURE CALTITE SYSTEM is a time-proven, practical system which produces effectively non-absorbent, impermeable and durable field concrete. It completely eliminates the need for membranes or other temporary methods of waterproofing.
EVERDURE CALTITE has a successful track record of more than 38 years of helping designers and owners protect concrete structures, even under the most severe conditions.
EVERDURE CALTITE concrete is used for:
SALT & MARINE ENVIRONMENTS
Concrete Sucks – it is absorptive, that's why it corrodes.
The Everdure Caltite concrete is non-absorptive. Caltite concrete will not absorb water and contained salts, and so is immune to chlorides and corrosion from marine environments.
ACIDIC ENVIRONMENTS
Protection of foundations and other concrete from disintegration by acids and acidic groundwater is vital to ensure the long-term performance of the structure. The EVERDURE CALTITE system is the practical way to protect concrete against acid attack. Unlike coatings or membranes, EVERDURE CALTITE is not susceptible to discontinuities or mechanical damage as it protects throughout the concrete mass.
INDUSTRIAL FLOORS
Protection of structural concrete for industrial floors exposed to aggressive chemical attack is vital for their profitable operation. Such attack results in pitted, uneven and eventually structurally unsound floors that require continued maintenance. Everdure Caltite concrete protects floors used for storage of fertilisers, sugar, salt etc.; manufacture of aggressive chemicals; processing of palm oil and rubber; animal husbandry and processing and storage of food stuffs.
Maintenance and down-time cost savings rapidly increase the profitability of industrial floors.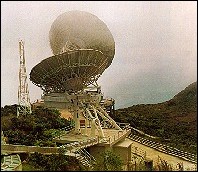 An EVERDURE CALTITE concrete roof is used to waterproof & protect the sensitive equipment of the Asiasat satellite dishes in Hong Kong. No membranes are required or used.
EVERDURE CALTITE FOR:
Membrane-free Waterproof Concrete Structures
BASEMENTS, TUNNELS AND RETAINING WALLS
The EVERDURE CALTITE system concrete for waterproofing substructures eliminates all tanking and membranes. It delivers maximum usable internal areas as there is no need for extra excavation for application of tanking or subsoil drainage layers, reduces construction time and cost, simplifies design and assures reliable performance.
ROOFS AND EXPOSED DECKS
The EVERDURE CALTITE system, together with a special reinforcement pattern, offers a unique means of constructing completely waterproof and maintenance-free flat or curved concrete slabs. Using EVERDURE CALTITE, shrinkage is reduced by up to 50%, tensile and compressive strengths are increased, an effective curing compound is applied, movement stresses from cyclic wetting/drying are eliminated and temperature stresses are controlled by a special reinforcing pattern.
SWIMMING POOLS, ORNAMENTAL POOLS AND WATER TANKS
The EVERDURE CALTITE system allows the design and construction of guaranteed leak-free suspended and in-ground swimming pools, ornamental pools or water features as well as water tanks.